Last full day today, before we catch our BA flight home tomorrow evening. Spent yesterday mooching around Ottawa buying a few presents and will probably do similarly today before catching the bus to Montreal this evening.

We have had an absolutely fantastic time over the last 8 1/2 months and would like to thank everybody we have met on our travels for making it such a wonderful experience.We would also to thank all of our friends and family back home for their support and for keeping in contact whilst we have been away. We now look forward to Birthdays, Hen dos, Stag Parties and weddings throughout September. Unless I Blog again tomorrow in Montreal this will be the last entry in my travel (b)log. I hope all that have browsed here have enjoyed what they have seen and read and I further hope that we may have inspired our friends to do more exploring of the amazing planet that we live on.

Thanks for your support,
Pete and Mel
x

Some North America photos here

Heres a nice Canadian sunset to finish off with...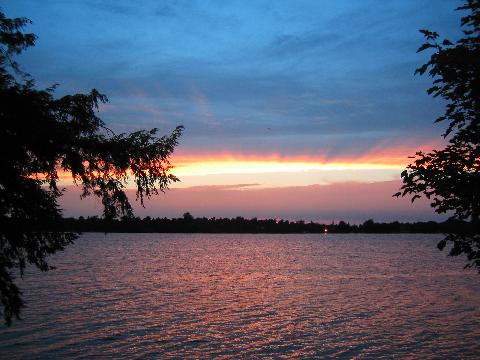 Have just spent 3 very relaxing days out in the countryside with Kev and Beth in a lakeside cottage. Most time was spent fishing, eating and drinking. Only a few days left now, so going for a look round Ottawa today before catching the bus back to Montreal on Thursday then fly home Friday.

Here a picture of Mel, Kev and I around the fire...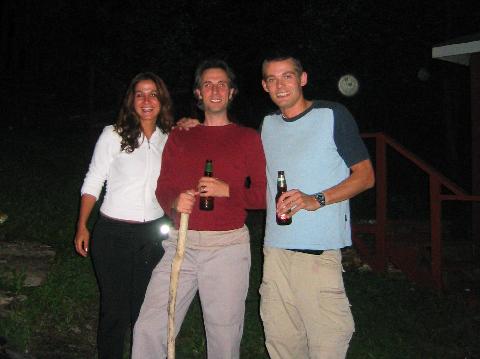 Arrived in Quebec on Tuesday and have been enjoying funky Montreal for the last few days. Have done some end-of-travelling shopping and have been to a Theme Park (with coasters that put DisneyWorld to shame!) and will spend this afternoon enjoying the park and maybe and art gallery (although we've seen sooo much art all over the world in the past few months it could be easy to skip and have a boozy lunch instead).

Catching the bus to Ottawa tomorrow at 11am. Only 1 week left until our final BA flight back to blighty on th 27th but should fit in some healthy rural activities up on Ottawa River with Kev and Beth before we head home for hen nights, stag do's, birthday parties and weddings...
Haven't blogged for over a week as we spent our remaining days in Mexico on the quiet side of Cozumel, in a charming seafront apartment (only 30ft from sea). It was the only place on the East coast of the island that had electricity all day due to its own wind powered generator. Spent 3 days chilling on the beach and chatting with an English surfer and praying the noisey, drunken, obnoxious yanks wernt going to turn up and spoil the tranquility. Fortunately we were spared...

After a day of travelling: 1 motorbike ride, 1 ferry, 1 taxi, 2 planes and a car journey over 17 hours in total, we arrived at Mels friend Kefi's home in leafy Princeton, New Jersey. Over the weekend we have been to the charming upstate New York area for some countryside hiking and have been into Manhattan for the night to dance til dawn at a really fun Godskitchen night (after a couple of false starts at other clubs). Yesterday was spent paying homage to the gods of DVD and takeaway as a means to recover after a great night out in the Big Apple.

Off to Montreal tomorrow and looking forward to hooking up with my old uni mate Kev Farley and his wife Beth next weekend...

Only 2 weeks left but will definitely make the most of them.
Great diving today that made up for Wednesdays, so so dive. Great swim throughs down to 32m. Saw half a dozen rays (eagle & sting) and a few cheerful turtles. 2nd dive had a fast current 3knots for some excellent superman-style drifting. Going again tomorrow for a wreck dive...
Click here for a selection of the photos from our time in the USA.


Heres a live picture of us today...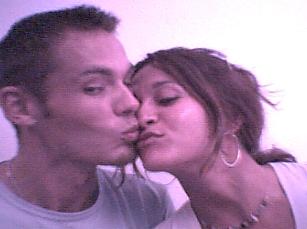 Went diving again yesterday which was OK but nowhere near as good as some of our other dives. Cozumel, like Playa Del Carmen is quite touristy and the dive sites we vsited were too busy. On our second dive I could hear engine noise for nearly the entire bottom time. In conditions like that anything of interest is going to be long gone. The only things we found were the odd Moray and a couple of giant crabs cowering under the coral. Shame, really as this place gets raved about and now we are in a do-we-stay-or-go dilemma. We both fancy some more beach time like Tulum, but fear all the beach between here and Cancun will be too busy and touristy. One option is to try the quiter side of this island which we may do this afternon on a scooter and see if we can find a quite place on the beach.
Have had to remove the Queenstown skydiving ones for the time being, as I was unable to create another Yahoo account.


Argentina here

Brazil here

and heres a recent picture of the beach at Tulum...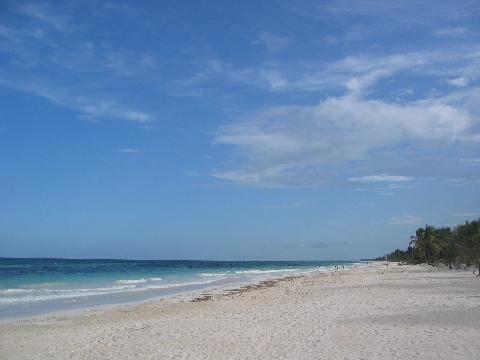 off to the island of Cozumel today...

heres a recent picture of Mel in Tulum...